For information only - not an official document
UNIS/NAR/1364
  6 November 2018
Marking 50th anniversary, INCB met States to discuss the international drug control system, challenges and the way forward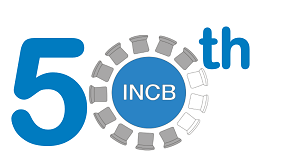 VIENNA, 6 November 2018 (UN Information Service) - Today the International Narcotics Control Board (INCB) met representatives of Member States in Vienna, Austria, for an open dialogue marking its 50th anniversary on the topic: "The international drug control system: challenges and the way forward."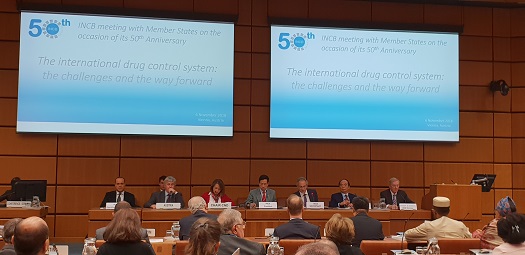 The Board Members took the opportunity to underline the challenges currently faced in drug control and initiatives to address them, focusing in particular on the access to and availability of internationally controlled medications, on the "recreational" use of cannabis, as well as the opioid and methamphetamine crises in North America, Asia and Oceania.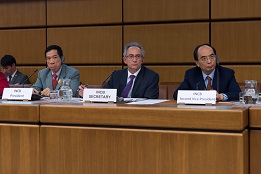 In his remarks, the President of the Board, Dr. Viroj Sumyai, stressed the importance of the cooperation of governments, together with the assistance of international organizations and civil society, to ensure the implementation of the three United Nations conventions on drug control, with a view to promoting public health and well-being. The President also emphasized the necessity for governments to "utilize the knowledge and expertise available and capitalize on the tools developed to support Member States in addressing drug control challenges".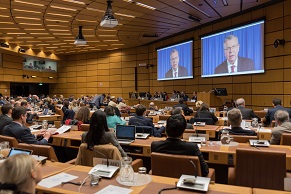 The President of the Economic and Social Council, the Director General of the World Health Organization and the Executive Director of the United Nations Office on Drugs and Crime addressed the meeting via video messages. Opening statements were also made by the Chair of the Commission on Narcotic Drugs, a representative of Austria as the host country of the Board, a representative of the Vienna NGO Committee on Drugs, and the Chairs of the Vienna-based regional groups of Member States. Member States delegations made statements from the floor and contributed to the discussion on the way forward to address drug control challenges. 
During the opening of the meeting, a minute of silence was observed in memory and honour of the late Permanent Representative of Austria to the United Nations in Vienna, Dr. Christine Stix-Hackl, who tragically and suddenly passed away in the weeks leading up to the meeting, and who had played a key role in supporting the work of the Board and the commemoration of the Board's 50th anniversary.
In closing the meeting, Dr. Sumyai reiterated the importance of safeguarding the well-being of citizens through the effective implementation of the treaties.
***
The Vienna-based International Narcotics Control Board is an independent body, formed in 1968 pursuant to the 1961 Single Convention on Narcotic Drugs, and mandated to monitor and support governments' compliance with the three international drug control treaties. Its 13 members are elected by the Economic and Social Council to serve in their individual capacities for a term of five years. The 123rd session of the Board takes place 30 October - 16 November 2018.
* *** *
For further information, please contact:
INCB Secretariat
Telephone for media inquiries: (+43-1) 26060 4163
Email: incb.secretariat[at]un.org
Website: www.incb.org
Photos: UNIS Vienna/Linda Behnke