For information only - not an official document
UNIS/NAR/1392
  31 October 2019
  Ensuring availability of controlled medicines, treaty compliance and challenges in the world drugs situation to be discussed at INCB session in Vienna
VIENNA, 31 October (UN Information Service) - The International Narcotics Control Board (INCB) will be reviewing the achievements and challenges in States' compliance with the international drug control conventions at its 126th session which has started in Vienna.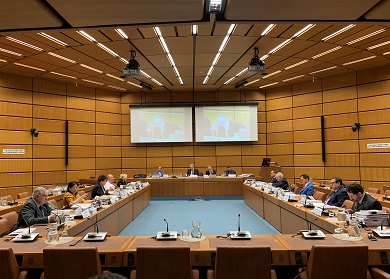 The Board's Standing Committee on Estimates met on the first two days of the session to review national requirements for narcotic drugs, psychotropic substances and precursor chemicals for licit purposes, as submitted to the Board by Governments. This is part of the Board's ongoing work to ensure the availability of internationally controlled substances for medical and scientific purposes while preventing their diversion to illicit channels, trafficking and abuse, and monitoring governments' control over chemicals frequently used in the illicit manufacture of drugs.
At the opening of the session, INCB President Cornelis P. de Joncheere reiterated the Board's concerns about the growing challenges in drug control, including on new psychoactive substances, non-medical synthetic opioids and non-scheduled precursors, as well as about continued human rights violations in the name of drug control. At the same time, he noted that "the lack of availability of narcotic drugs and psychotropic substances for legitimate medical use represents a pressing public health problem in many regions of the world that countries must address without further delay."  Mr. de Joncheere said: "Promoting compliance by governments with the fundamental provisions of the drug control treaties will take centre stage in our discussions over the next two weeks."
INCB will be analysing the drug control situation globally, as well as in specific countries. The Board will also dedicate sessions to continue working on its Annual Report for 2019, precursors report and technical publications on the licit use of narcotic drugs and psychotropic purposes.
Another important agenda item of the session, which will continue until 15 November, is the Board's consideration of the reports of its missions, which are an important part of its ongoing dialogue with Governments. The Board will be reviewing the findings of its recent missions to Austria, Jordan, Kosovo [1] , Madagascar, Mauritania, New Zealand, Norway, Trinidad and Tobago, and Ukraine. During the session, the Board will hold an open dialogue with Member States on progress towards ensuring adequate access to internationally controlled substances for medical and scientific purposes. 
***
INCB is the independent, quasi-judicial body charged with promoting and monitoring Government compliance with the three international drug control conventions: the 1961 Single Convention on Narcotic Drugs, the 1971 Convention on Psychotropic Substances, and the 1988 Convention against Illicit Traffic in Narcotic Drugs and Psychotropic Substances. Established by the Single Convention on Narcotic Drugs of 1961,  the thirteen members of the Board are elected in a personal capacity by the Economic and Social Council for terms of five years.
* *** *
For further information, please contact:
INCB Secretariat
Tel.: (+43-1) 26060-4163
Email: incb.secretariat[at]un.org
www.incb.org
___________________________
[1] All references to Kosovo should be in the context of Security Council resolution 1244 (1999).