For information only - not an official document
UNIS/NAR/1440
  19 May 2021
INCB discusses impact of illicit financial flows through drug trafficking on development and security with civil society

VIENNA, 19 May 2021 (United Nations Information Service) - The International Narcotics Control Board (INCB) discussed "Illicit Financial Flows Through Drug Trafficking - Impact on Development and Security" with Non-Governmental Organizations (NGOs) today. Civil society representatives shared their perspectives and engaged in a dialogue with members of the Board on the importance of addressing the illicit financial flows associated with drug trafficking.
 INCB President Cornelis de Joncheere opened the dialogue by recognizing the valuable role played by Non-Governmental Organizations towards achieving the aims of the three drug control conventions. Mr. de Joncheere announced that the thematic chapter of the INCB 2021 annual report would focus on illicit financial flows through drug trafficking and the impact of these flows on development and security.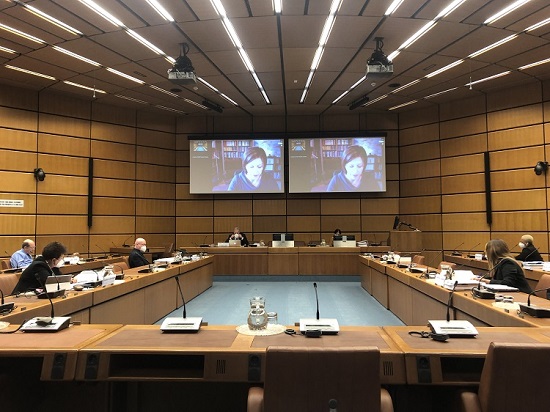 The participation of civil society representatives was facilitated by the Vienna Non-Governmental Organization Committee on Drugs (VNGOC). The VNGOC Chair, Jamie Bridge, gave opening remarks, introducing the interventions from civil society representatives, who had been selected by the Committee following an open call for applications.
The participating speakers represented a range of NGOs from across the globe. The contributions from the meeting will be made available on the website of the Vienna NGO Committee on Drugs and will be taken into consideration by the Board in the drafting of the thematic chapter of its 2021 annual report.
The President of the Board closed the discussion with thanks to the Vienna NGO Committee on Drugs for its role in selecting the speakers and facilitating a productive dialogue. The Board looked forward to continuing its cooperation with civil society, including through such dialogues and during INCB country missions.
***
INCB is the independent, quasi-judicial body charged with promoting and monitoring Government compliance with the three international drug control conventions: the 1961 Single Convention on Narcotic Drugs, the 1971 Convention on Psychotropic Substances, and the 1988 Convention against Illicit Traffic in Narcotic Drugs and Psychotropic Substances. Established by the Single Convention on Narcotic Drugs of 1961, the thirteen members of the Board are elected in a personal capacity by the Economic and Social Council for terms of five years. 
* *** *
For further information, please contact:
INCB Secretariat
Tel.: (+43-1) 26060-4163
Email: incb.secretariat[at]un.org
www.incb.org