Statement by Jagjit Pavadia, President,
International Narcotics Control Board (INCB)
Opening of the sixty-fifth session of the Commission on Narcotic Drugs
14 March 2022, Vienna Austria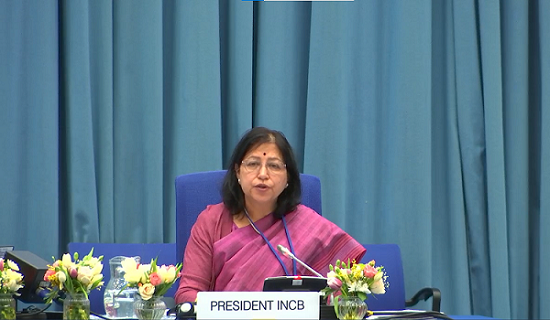 Mr. Chair, Ms. Waly, Dr. Tedros, Excellencies, Ladies and Gentlemen,
     It is an honour to address you today and I look forward to engaging with you as we continue our work towards addressing the world drug problem and progressing on the Sustainable Development Goals, particularly SDG 3 on ensuring good health and well-being and SDG 16 on peace, justice and strong institutions.
    In ratifying or acceding to the drug control conventions, Member States have agreed to ensure the availability of narcotic drugs and psychotropic substances for medical and scientific purposes, while at the same time preventing abuse, preventing diversion to illicit channels, preventing illegal cultivation and production, and, finally, preventing trafficking.
    This includes supporting Governments to ensure availability of medicines containing controlled substances in emergency situations, which is particularly relevant given the acute humanitarian crisis in Ukraine and neighbouring countries. The International Narcotics Control Board is deeply concerned about this situation, with over 2 million refugees having fled from Ukraine.
    Member States need to ensure such availability. However, there remains great inequality between regions in the availability of medicines. People are suffering unnecessarily from treatable pain and treatable conditions. INCB is working with Member States and partner organizations in order to address these imbalances, including through the INCB Learning programme. Last September INCB, UNODC and WHO collaborated by issuing a joint statement on access to controlled medicines in emergencies, and we look forward to continuing these joint efforts. With an increasing number of countries permitting the cultivation, manufacture, trade and consumption of cannabis and related substances for medical and scientific purposes, INCB is working with competent national authorities to ensure a common standard of reporting and monitoring in line with the conventions.
    INCB is supporting Member States in the control of precursor chemicals used in illicit manufacture of drugs including the scheduling of new substances used in illicit manufacture and in identifying options to address the proliferation of non-scheduled, designer precursors. We are also engaging with governments with a view to enhancing operational use of article 13 of the 1988 Convention on equipment used in drug manufacture, and various measures are set out in the Conference Room Paper submitted by INCB. INCB's Global Rapid Interdiction of Dangerous Substances (GRIDS) Programme is building the capacity of Member States to address new psychoactive substances and non-medical synthetic opioids, in close cooperation with UNODC and other international and regional organizations. I invite delegations to join INCB's side events on these initiatives.
    INCB takes great pride in the work that it has been able to do under these initiatives, more so during the COVID-19 pandemic, where work was able to continue despite various COVID-19 restrictions. These initiatives demonstrate INCB's commitment to support States to meet the goals and objectives of the drug control conventions.
    Finally, full implementation of the drug control conventions will not only contribute to the achievement of SDG 3 as well as SDG 16 on peace, justice and strong institutions, but will also lead to the protection and promotion of human rights. This is because the ultimate aim of the conventions is to safeguard the health and welfare of humankind and this includes the full enjoyment of human rights. INCB calls on Member States to place human rights at the centre of their drug control policies. Violations of human rights in the name of drug control are inconsistent with the objectives of the drug control conventions. INCB renews its calls for Member States to ensure that responses to drug-related offences are consistent with the principle of proportionality and respect for due process and the rule of law.
    I wish the Commission success in its work over the coming days, and look forward to meeting with delegations and civil society representatives.
Thank you.