Mission to the Socialist Republic of Viet Nam
From 4 to 7 April 2016, a mission of the Board visited the Socialist Republic of Viet Nam. The mission was led by Ms. Jagjit Pavadia, Second Vice President of the Board, accompanied by Mr. Paul Rabbat, Chief of the Convention Evaluation Section of the INCB Secretariat. The objective of the mission was to discuss the implementation by the Socialist Republic Viet Nam of the three international drug control conventions.
The mission which was coordinated by the Standing Office on Drugs and Crime and held  high level talks with senior officials from the Vietnamese Government. Meetings were held with H.E. Mr Vu Duc Dam, Deputy Prime Minister and Chairman of the National Committee for AIDS, Drugs and Prostitution Prevention and Control as well as senior government officials from the ministries of Foreign Affairs, Public Security, Health, Justice, Labour, Invalids and Social Affairs, Industry and Trade, Information and Communication. While in the country, the mission also visited a drug treatment centre and held consultations with representatives of civil society groups.
The findings of the mission will be presented to the Board at its next session, scheduled to take place in May 2016.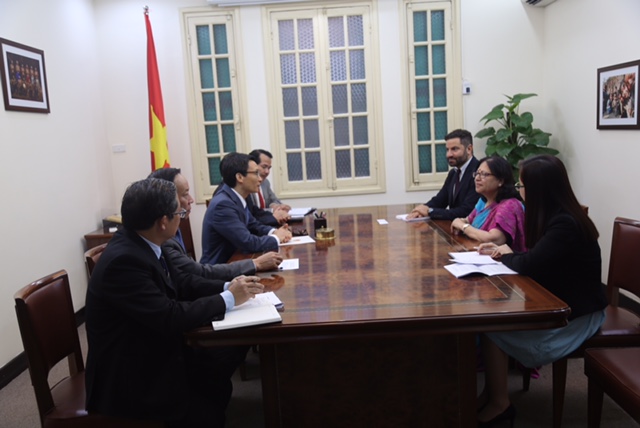 Meeting between Deputy Prime Minister Vu Duc Dam (3rd left) and Vice President of the International Narcotics Control Board, Jagjit Pavadia (2nd right)