INCB mission to Paraguay
VIENNA, 11 December 2018 - An INCB mission visited Paraguay from 3 to 7 December 2018. The mission was conducted by Mr. Luis Alberto Otárola Peñaranda, member of the INCB and Ms. Beatriz Ospina Aragón of the INCB secretariat. The last INCB mission visited Paraguay in 2005. The mission was organized by the Ministry of Foreign Affairs.
The objective of the mission was to review the drug control situation in Paraguay and the full implementation of the three United Nations drug control conventions to which Paraguay is a party, including reporting to and cooperation with INCB in accordance with the Conventions. The situation of, and the actions by the Government to counter drug trafficking, to prevent drug abuse and to provide treatment and rehabilitation for drug dependent persons were also discussed.
The mission met with H.E. Juan Ernesto Villamayor, Minister of Interior, H.E. Julio Mazzoleni, Minister of Public Health and Social Welfare, H.E. Carla Bacigalupo, Minister of Labor, Employment and Social Security; H.E. Arnaldo Giuzzio, Minister of the National Anti-Drug Secretariat, the Ministers of the Supreme Justice Court, members of Senators and Deputies Chambers, as well as with Directors of the National Police and the General Customs.
The findings of the mission will be reviewed by the Board at its 124th session in February 2019.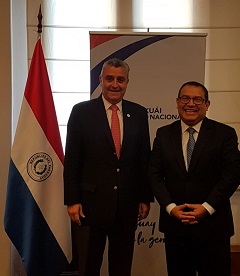 Photo: Mr. Luis Alberto Otárola Peñaranda accompanied by H.E. Juan Ernesto Villamayor, Minister of Interior