INCB mission to Canada
Vienna, 28 September - From 25 to 27 September 2023, the Board undertook a high-level mission to Canada to discuss drug control policies and implementation of the international drug control treaties with senior Government officials and other stakeholders. The last mission to the country took place in 2016.
The mission was led by Prof. Jallal Toufiq, President of the Board, who was accompanied by Mr. Mark Colhoun, Secretary of the Board and Mr. Nodirjon Ibragimov of the Board's secretariat.
While in Ottawa, the INCB delegation held consultations with the Minister of Mental Health and Addictions and Associate Minister of Health, Associate Deputy Minister of Foreign Affairs, Director General of the Bureau for International Crime and Terrorism of Global Affairs Canada, Assistant Deputy Minister Legal Affairs and Legal Adviser of Global Affairs of Canada, Director General of Law Enforcement Directorate of Public Safety Canada, Director General of Strategic Policy Directorate of Controlled Substances and Cannabis Branch of Health Canada and with senior officials from the Department of Justice, Canada Border Services Agency and Royal Canadian Mounted Police. The delegation also held meetings with provincial governments and non-governmental organizations working in the field of drug and substance use.
The findings of the mission will be considered by the Board at its 138th session in November 2023.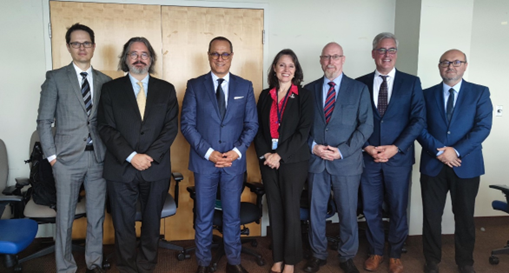 Photo: From left to right - John Clare, Director General, Strategic Policy Directorate, Controlled Substances and Cannabis Branch, Health Canada; Robert Brookfield, Director General and Senior General Counsel, Criminal Law Policy Section, Department of Justice; Jallal Toufiq, President of the Board; Jennifer Loten, Director General, Bureau for International Crime and Terrorism, Global Affairs Canada; Mark Colhoun, Secretary of the Board; Louis-Martin Aumais, Director General and Deputy Legal Adviser (Public International Law), Global Affairs Canada; Nodirjon Ibragimov, Drug Control Officer, INCB Secretariat