INCB mission to the Republic of Cyprus
VIENNA, 18 September 2023 - From 12-14 September 2023, the Board undertook a mission to the Republic of Cyprus to discuss effective implementation of the international drug control conventions. The mission was led by Mr. Cornelis P. De Joncheere, Rapporteur of the Board, with the support of Ms. Ha Fung Ng (Cilla) of the Board's secretariat. The mission was organized with the support of the Cyprus National Addictions Authority. The last INCB mission to the Republic of Cyprus was conducted in 1998.
While in Nicosia, the INCB delegation met with the Minister of Health; the Minster of Justice and Public Order; the Director General of the Customs and Excise Department; the Deputy Chief of Police and the Drug Law Enforcement Agency; the President and representatives of the Cyprus National Addictions Authority; senior officials from the Ministry of Foreign Affairs; and representatives of the Pharmaceutical Services, State Health Services Organizations, Mental Health Services, State General Laboratory, Law Office of the Republic and the Unit for Combating Money Laundering. The mission also conducted site visits to a multi-intervention centre and counselling centre for people who use drugs. The INCB delegation also met with UNDP Cyprus and representatives of non-governmental organizations working on drug control issues.
The findings of the mission will be considered by the Board at its 138th session in November 2023.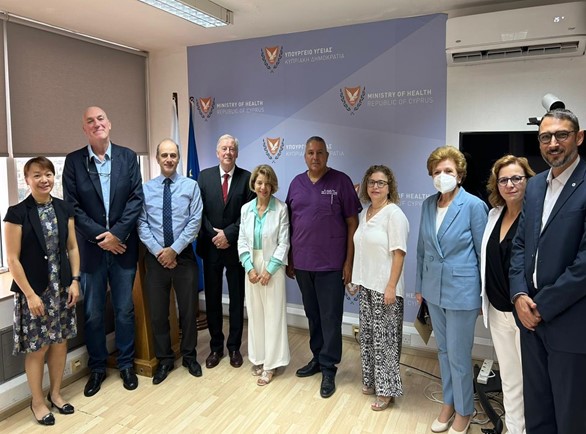 Photo: Mr. Cornelis P. De Joncheere with Dr. Popi Kanari, Minister of Health, senior officers of the Cyprus National Addictions Authority, Mental Health Services, Pharmaceutical Services and State General Laboratory, and Ms. Ha Fung Ng of the INCB secretariat
***