Strengthening international cooperation and global intelligence sharing through INCB tools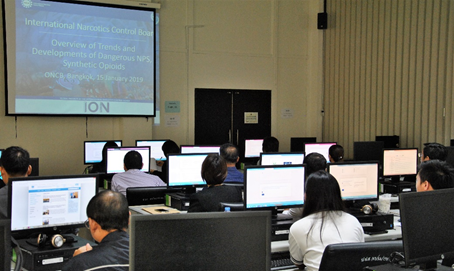 BANGKOK, 16 January 2019 - In a collaborative approach to address trafficking in dangerous substances, the International Narcotics Control Board (INCB) and the Office of Narcotics Control Board (ONCB) of Thailand held two training events on intelligence sharing tools to counter trafficking in new psychoactive substances, non-medical synthetic opioids, and fentanyl-related substances at ONCB headquarters in Thailand. The training was implemented jointly under INCB's Project Ion and the global OPIOIDS Project, in an effort to increase awareness and the capacity of officers to collect, integrate, and communicate NPS trafficking intelligence.
Twenty-four law, regulatory enforcement and related officers from Thai Customs, ONCB and the Food and Drug Administration (FDA) participated in the rapid response trainings. The officers learned about the changing NPS trafficking situation and regional differences in the opioids crisis and were trained in intelligence sharing and effective use of the IONICS communication platform to support domestic and international trafficking investigations.
Results of specialist officers' pre-test and post-test skills assessments demonstrated an average increase in knowledge and skills of 38 percentage points following training officers.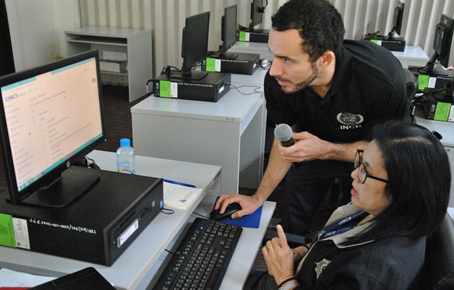 Photo: Oranooch Sungkhawanna (right), Director of the International Cooperation on Law Enforcement Division of Thailand's Office of the Narcotics Control Board (ONCB),and Mr. Fernando Romero, INCB Trainer, demonstrate the INCB IONICS system
Mr. Matthew Nice, manager for the INCB global OPIOIDS Project, stressed the need for more multi-agency training in the use of global intelligence sharing tools, such as the INCB Project Ion Incident Communication System (IONICS). "NPS are by definition not controlled internationally but the harms from non-medical use of these dangerous substances-particularly fentanyl analogues without any known legitimate uses-are increasingly being reported around the world. There remains a need to share information and develop intelligence in real-time so that countries with effective domestic laws are able to act quickly to interdict traffickers", said Mr. Nice.
The training programme was held at the same time as the INCB Workshop on Public-Private Partnership for Prevention of Traffic in NPS, Synthetic Opioids and Precursors via E-Commerce Platforms, the third in a series of specialized workshops enlisting the voluntary cooperation of global industry partners. "These events highlight complementary, innovative, and practical solutions to making the sale and distribution of fentanyl-related and other dangerous substances more difficult", said Dr. Viroy Sumyai, President of INCB.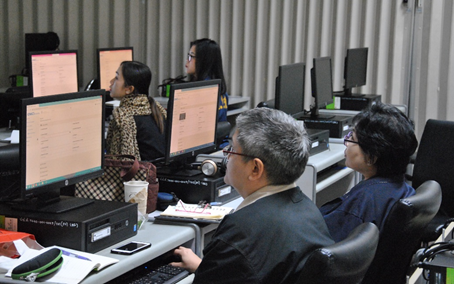 Photo: Officers learning to navigate the IONICS, the UN's only communication platform for the global exchange of intelligence related to trafficking in non-scheduled substances
The Board's global Project Ion and OPIOIDS Project are helping Governments to respond to changing trafficking, online marketing and sales patterns of NPS, synthetic opioids and fentanyl-related substances by sharing information and alerts with Governments and private sector partners in its efforts to interdict distribution of these substances.
These two training events were made possible through the generous support of the Government of Japan.
The meeting was made possible through the generous support of the Government of Japan.
***