INCB partnering with UPU during its Postal Security Group meeting in Bern, Switzerland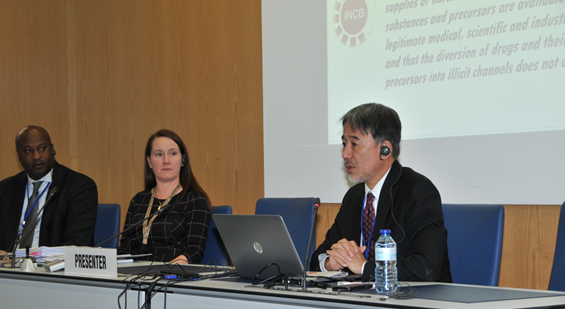 Bern, 23 January 2019 - As part of the Universal Postal Union (UPU) Postal Operations Council meetings held 21-30 January, its Postal Security Group (PSG) met at UPU's International Bureau in Bern to discuss issues related to current and future security and safety of global postal services. Of increasing interest among the 50 security officers representing national postal administrations, was the increasing threat posed by dangerous fentanyls shipped through the global postal network.
Mr. Fumio Ito, INCB Project ION manager, highlighted the elements of synthetic opioids trafficking via postal services. He briefed the participants on overviews of INCB global projects, basics related to illicit synthetic opioids and their trafficking, and results of INCB expert working group meetings to respond to new phenomena of trafficking via internet and postal and courier services through partnerships with postal administrations and private industry.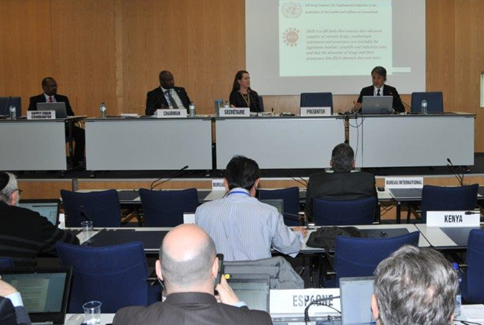 Photo: UPU Postal Security Group (PSG) met at the International Bureau in Bern, Switzerland
During his address, Mr. Ito emphasized, "INCB global projects and the IONICS communication platform support government authorities, including postal administrations, in effectively preventing the misuse of postal services for illicit purposes, including trafficking in dangerous substances, and inadvertent exposure to such substances by postal service personnel through developing intelligence", noting the size of daily postal flows, which makes unfeasible inspection of every letter and parcel, as well as the fundamental right to secrecy of correspondence.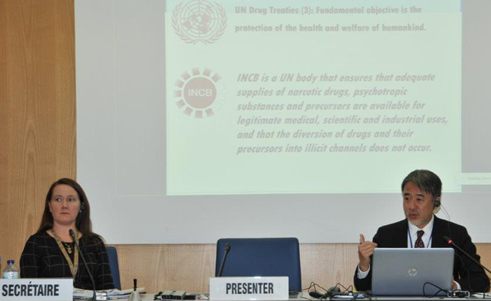 Photo: Mr. Ito (INCB) and Ms. Dawn Wilkes (UPU) discuss UN inter-agency cooperation to address dangerous substances in the world's postal stream.
Mr. Ito also provided a live demonstration of the IONICS secure communication platform, which under a 2018 cooperative agreement with the UPU, the INCB has made available to government security officers operating in national postal administrations.
The Board's global projects - OPIOIDS and ION - help Governments and international partners like the UPU, respond to trafficking of dangerous substances such as fentanyls, by developing and quickly sharing specific intelligence on their sources and trafficking patterns to national and international partners alike.
Click here to learn more about the OPIOIDS Project
Click here to learn more about the Project ION