GRIDS e-Week explores the impact and solutions of the COVID-19 pandemic on trafficking in dangerous drugs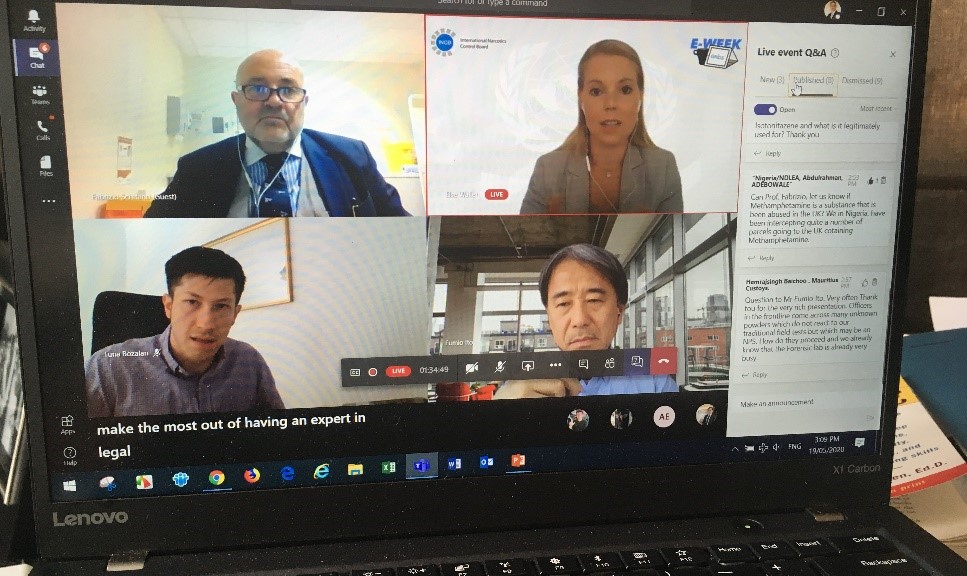 Vienna, 22 May 2020 - As a practical response to the current COVID-19 pandemic, INCB organized a series of interactive webinars to raise awareness of new trafficking trends and provide practical approaches for law and regulatory enforcement focal points around the global. The GRIDS e-Week event held 18 to 22 May, assembled frontline officers, national and international experts, private-sector partners, academics and think tank experts from around the world to explore the impact of the pandemic on global drugs and dangerous substances trafficking and offer potential solutions.
The event brought together more than 500 participants from Peru to Fiji took who took part in the interactive online series which covered practical aspects of the stopping trafficking in current pandemic, including: lessons learned from special operations; NPS, emerging substances, trends; fentanyls and related handling of dangerous substances; monitoring of open net and darknet; and public-private partnerships in practice. Experts from Canada, INCB, India, UNODC, USA, UPU, and WCO joined experts from Cayman Chemical, the Center for Advanced Defence Studies, and the University of Hertfordshire to discuss the latest industry trends, real-time NPS trafficking information, and emerging dangerous substances and safe handling, in an effort to understand how traffickers are abusing supply chains in the "new normal."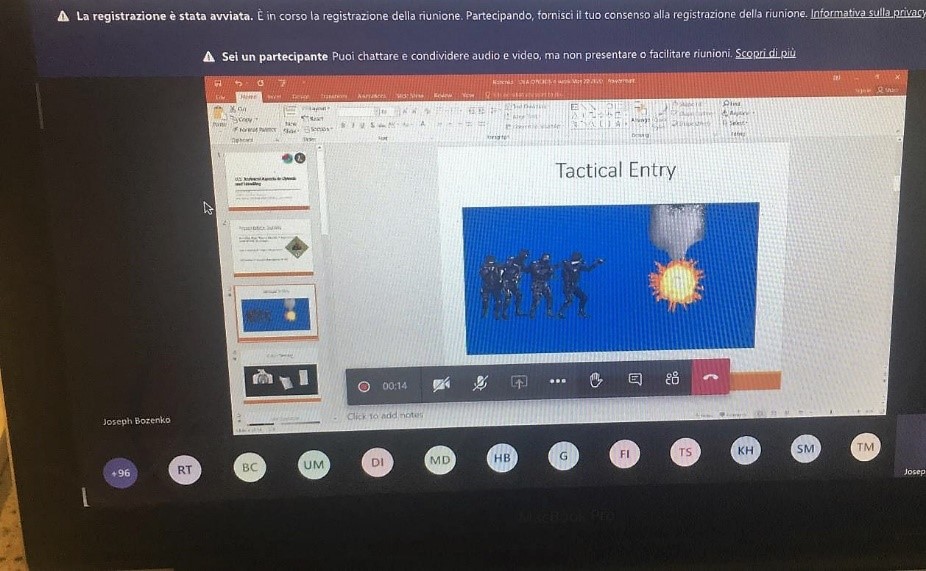 Photograph: Approaches to safe handling of high-hazard exhibits presented by the US Drug Enforcement Administration
Dawn Wilkes, Security Manager for the Universal Postal Union (UPU) noted, "these topical week long conversations on the ramifications of the current pandemic on the supply chain and the effect on the interdiction of dangerous substances brought together a great cross-section of stake holders to share practical experiences from across the globe." Supply chain security was a theme echoed by the UNODC/WCO Container Control Programme law enforcement expert Bob Van Den Berghe, who stressed "refocusing efforts on maritime ports, airports, land borders and train cargo crossing border points that are most vital to COVID-19 and dangerous substances efforts."
The virtual supply chain was another theme panelists discussed throughout the week. Daniel Burke, senior investigator from the US Food and Drug Administration stated, "cybercriminals are not concerned with borders or jurisdiction and certain parts of the Internet enable bad actors to operate with impunity. Law enforcement must be nimble and act in a true spirit of global cooperation to counter threats to public health." Abuse of virtual markets in cyberspace was echoed by experts from the Center for Advanced Defence Studies noting "Collaborating with the INCB, a key information hub for understanding illicit drug supply chains, has always been a pleasure" said Michael Lohmuller. "The GRIDS E-Week has been a great opportunity for sharing critical knowledge and learning best practices from colleagues on how to understand the challenge of synthetic drug trafficking."
Finally, collaboration and information exchange were highlighted repeatedly throughout the e-Week by panellists and participants alike. Brandon Callahan, investigator from the US Postal Inspection Service noted that, "law enforcement is having to adapt to the current situation and environment, as well as prioritize their mission and focus following the COVID-19 pandemic." While a technical presentation by Dr. Donna Iula, Vice President of Forensic Chemistry at Cayman Chemical, identified the next generation of synthetic opioid analogues now emerging on European and North America illicit cyber and physical drug markets despite the COVID19 disruption to transport and trade channels.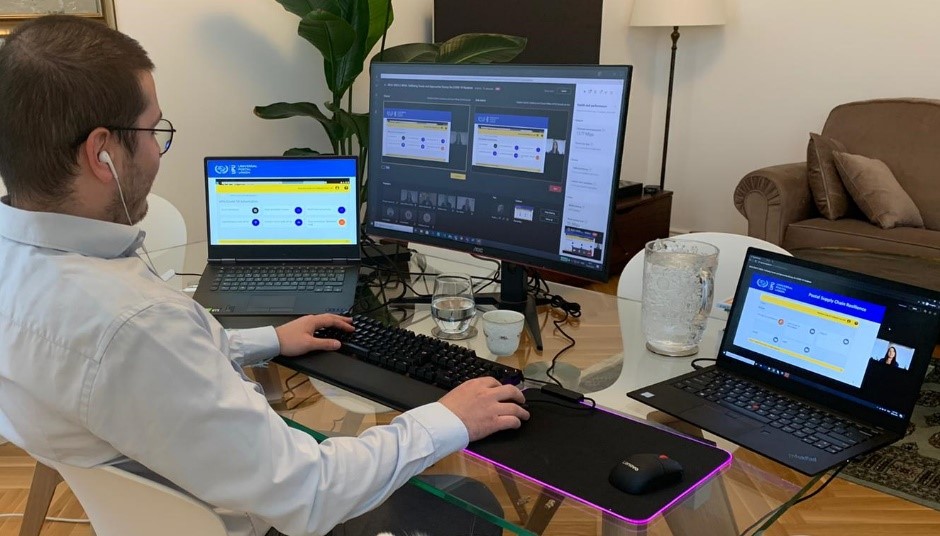 Photograph: One of several remote producers coordinates seamless presentations by panellists across 11 time zones
The Board's Global Rapid Interdiction of Dangerous Substances (GRIDS) programme is in response to the 2018 United Nations General Assembly Resolution 73/192, calling for "International cooperation to address and counter the world drug problem", by responding to requests by Member States to enhance their law enforcement capacity to detect and identify new psychoactive substances and promote cross-border cooperation and information-sharing through the use of the Board's specialized tools and projects. Under the GRIDS programme, the Project Ion, the OPIOIDS Project and the IONICS platform provide practical tools to interdict illicit manufacture, marketing, movement and monetization of dangerous NPS, fentanyl-related substances and their precursors, through information and intelligence exchange.
The GRIDS Programme of activities is made possible through the generous investments by the Governments of Australia, Canada, Japan and the United States.
Click here to learn more about the GRIDS Programme
Click here to learn more about the Project Ion
Click here to learn more about the OPIOIDS Project