INCB convenes dual hemisphere expert groups to stop synthetic opioid traffickers exploiting postal, express mail and courier services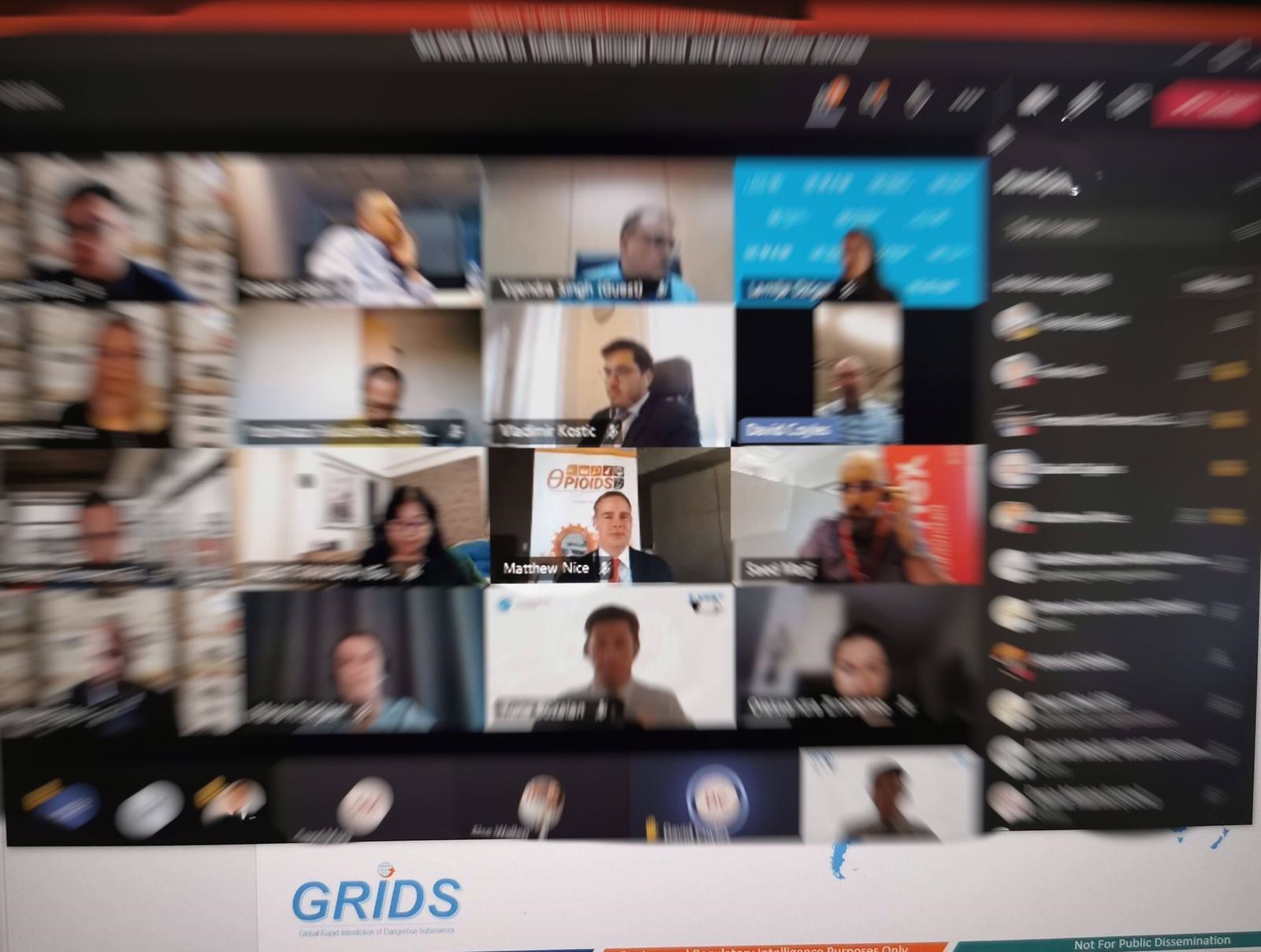 Vienna 25 September 2020 - The International Narcotics Control Board (INCB) has concluded a five-day expert group meeting (EGM) on the trafficking in non-medical synthetic opioids, and fentanyl-related substances through postal, express mail, express courier services, and related services. This was INCB's first of its kind dual hemisphere virtual EGM and continued the successes of the previous meetings convened in 2018 and 2019.
The meeting was held under the auspices of the INCB Global Rapid Interdiction of Dangerous Substances (GRIDS) Programme, the Board´s global initiative addressing the international trafficking aspects of emerging dangerous substances like designer opioids. Due to their potency, international shipments of these fentanyls and related substances are frequently trafficked in very small amounts and disguised using ever more creative methods throughout COVID-19 pandemic. For this reason, postal, express mail and express courier services play a significant role in preventing the movement of these dangerous substances and protecting supply chains.
More than 100 experts from 20 governments including Australia, Canada, China, Egypt, Fiji, France, Germany, Hong Kong SAR of China, India, Japan, Latvia, Luxembourg, Mexico, Nigeria, Russia, Singapore, Sweden, Switzerland, Thailand, United Arab Emirates, the United Kingdom and the United States discussed current trafficking trends and the on-going impact of the COVID-19 pandemic. They were joined by international security partners from the Caribbean Postal Union, Europol, Oceania Customs Organisation (OCO), Postal Union of the Americas, Spain and Portugal, United Nations Office on Drugs and Crime (UNODC), Universal Postal Union (UPU) and World Customs Organization (WCO).
Mr. Angus Lee, WCO Technical Attaché at the Compliance and Enforcement noted during his trafficking analysis of the Customs Enforcement Network that NPS trafficking in 2019 had increased by nearly 22% over the past year and stressed the need for continuing "joint international cooperation and strategic multi-sector partnerships."
Important private sector stakeholders from national postal operators, regional postal security groups, Aramex, the Global Express Association-representing DHL, FedEx and UPS-and the United Parcel Service provided valuable insights into the various logistics channels that comprise international postal and express courier services, and industry efforts to prevent the exploitation of their systems for illicit purposes. Participants from all sectors emphasized the importance of government and international cooperation with private industry to raise awareness, leverage electronic information exchange and further cooperation with practical steps for future actions that ensure safe supply chains.
To accommodate the vast number of experts from Fiji to the US, the meeting was held in two hemispheres - one for experts in the Eastern hemisphere and one for experts in the Western hemisphere. Mr. Matthew Nice, manager of the INCB global OPIOIDS Project stated, "the GRIDS Programme is leading practical engagement with the relevant private sectors through government and international partners, by constantly innovating support to governments, adapting as the operating environment changes to prevent abuse of legitimate industries by traffickers of fentanyls and other dangerous substances."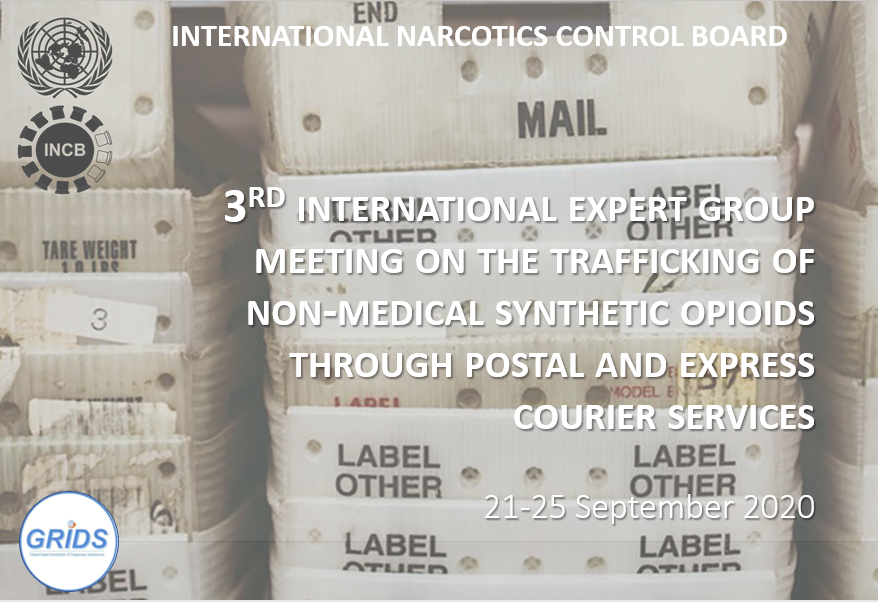 GRIDS Programme supports the 2018 United Nations General Assembly Resolution 73/192, calling for "international cooperation to address and counter the world drug problem", by responding to requests by Member States to enhance their law enforcement capacity to detect and identify new psychoactive substances (NPS) and promote cross-border cooperation and information sharing through the use of the Board's specialized NPS tools, Project ION, the OPIOIDS Project and the IONICS platform.
The Board's GRIDS Programme of activities and this EGM was supported with the generous investment by the Government of Canada.
Click here to learn more about the GRIDS Programme
Click here to learn more about the OPIOIDS Project
Click here to learn more about the Project ION