INCB e-learning training benefits 100 countries and territories worldwide
VIENNA, 13 October 2020 - Last week INCB Learning reached a significant milestone with the enrolment of officials of competent national authorities from 100 countries and territories worldwide in the INCB e-learning modules. Available since October 2019 in English, and since March 2020 in Spanish, the interactive modules have been taken up by around half the governments of the world within one year. Up to 12 October 2020, 801 officials from 100 countries and territories have enrolled in the INCB e-learning modules and 673 certificates for successful completion of the three e-learning modules have been issued.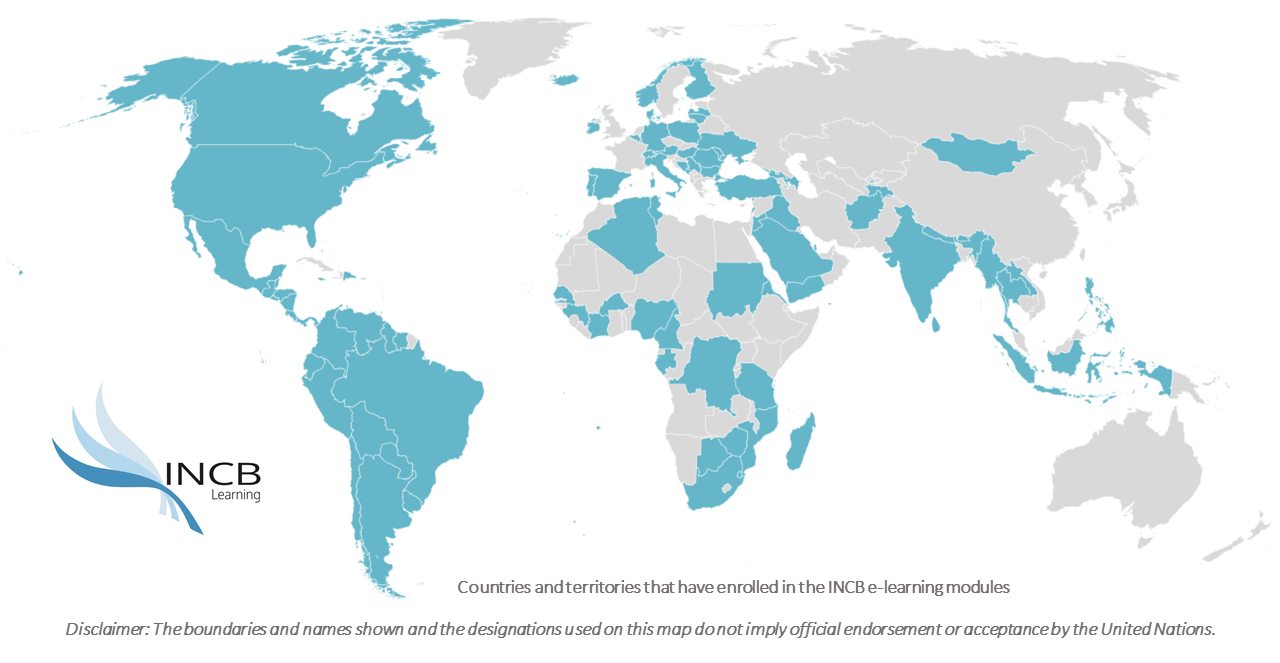 As the pandemic increasingly affects countries with under-resourced health infrastructure and services, it is imperative to ensure that all people in all countries of the world are able to access essential medicines, including those that are under international control. Within the Board's mandate, INCB Learning is assisting Member States by addressing the barriers to adequate availability of indispensable narcotic drugs and psychotropic substances required for medical treatment, particularly by raising awareness and providing training.
The three e-learning modules, available in English and Spanish, are free of charge to competent national authorities and are aimed at supporting governments in estimating and assessing their needs for internationally controlled substances. The e-learning modules offer self-paced training on the estimates system for narcotic drugs, the assessment system for psychotropic substances, and estimates of annual legitimate requirements (ALRs) for imports of precursors of amphetamine-type stimulants.
Under the INCB Learning global project, the e-learning modules are complemented by regional training seminars, availability workshops and live webinars. Building drug control capacity to ensure adequate availability of internationally controlled substances for medical and scientific purposes is at the core of INCB Learning's work and key to achieving SDG 3: Ensure healthy lives and promote well-being for all at all ages.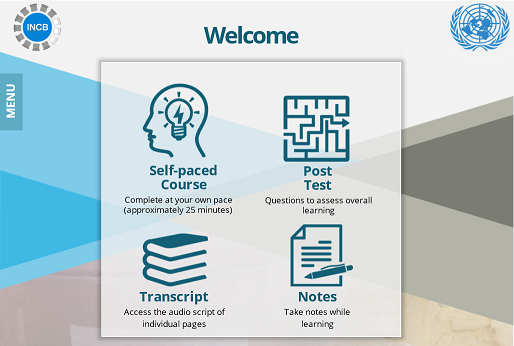 INCB Learning is looking forward to reaching a larger audience with the development of the e-modules in other United Nations official languages. The activities of INCB Learning have been made possible through the contributions of the Governments of Australia, Belgium, France, the Russian Federation, Thailand and the United States of America.