Expert Group Meeting on Dangerous Substance Trafficking through Social Media and other Internet-related Services
Vienna, 13 July - Under the auspices of its Global Rapid Interdiction of Dangerous Substances (GRIDS) Programme, INCB is holding a six-day online expert group meeting on the trafficking of dangerous substances through social media and other Internet-related services, with the aim of promoting public-private partnerships and strengthening practitioners' networks.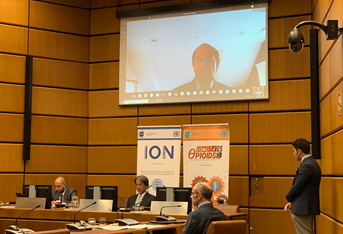 In his opening statement at the launch of the meeting on 30 June 2020, INCB Second Vice-President Amb. David Johnson noted that many legitimate businesses are regularly exploited by traffickers and that the ever-growing Internet sphere allows drug traffickers to easily market their products to a global audience. INCB therefore supports broad cooperation with relevant industry counterparts, including Internet domain services and service providers, search engines and social media.
The Government of Canada and the Government of Japan, represented by Ms. Sandrine McDuff, Policy Advisor with Global Affairs Canada, and Mr. Masanobu Yamate, First Secretary of the Permanent Mission of Japan to the United Nations in Vienna, expressed their appreciation for INCB's effort in this regard - not least for the work being conducted under the GRIDS Programme. Mr. Yamate reiterated the importance of tackling global drug trafficking together in a comprehensive, integrated and balanced way.
The first day of the meeting focused broadly on Internet mapping and governance. Mr. Michael Lohmuller from the Center for Advanced Defense Studies (C4ADS) laid out the methodologies used in the identification and mapping of trafficking activities on the surface web and explained how this helps to predict emerging trends. The intricacies of Internet governance - especially the complex relationship between the open Internet concept and the need to suppress illegal activities - was further highlighted by Ms. Fiona Alexander, Distinguished Fellow, Internet Governance Lab, American University. Ms. Alexander noted that expert group meetings such as this are "a critical tool to connect law enforcement with responsible Internet actors so that public-private partnerships can be established to address Domain Name System (DNS) Abuse".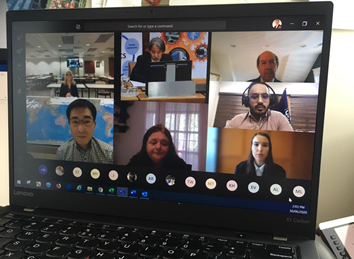 The second day mainly dealt with the various means available to Governments and Internet registries and registrars to deal with illegal online pharmacies and other 'rogue' websites that enable online trafficking. Mr. Jamie Gillespie from the Asia-Pacific Network Information Centre (Apnic), Mr. Brian Cimbolic from Public Interest Registry (PIR) and Ms. Crystal Peterson from Neustar detailed their respective efforts to promote voluntary actions on specific 'egregious' types of content abuse, including illegal distribution of opioids, and the cooperation with law enforcement agencies.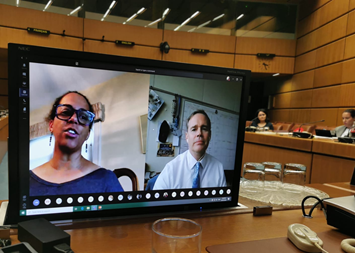 A common challenge encountered by the participating experts was the nature of the substances in question, the identification of which often requires knowledge of chemistry, which is usually scarce in Internet registries. In this context, INCB underlined its readiness to provide guidance to organizations trying to interdict the trafficking of dangerous substances. Finally, Mr. Kamalpal Singh Malhotra from India's Narcotics Control Bureau presented the results of the INCB-led Operation TRANCE as an example of successful public sector cooperation with Internet-related services.
Over 40 experts from around the world participated in the first two days of the meeting. The remaining four sessions will cover cooperation with social media platforms and issues related to public-private partnerships. The expert group meeting will end on 16 July.
This activity is supported by the generous project funding of the Governments of Canada and Japan.
Click here to learn more about the GRIDS Programme
Click here to learn more about the OPIOIDS Project
Click here to learn more about the Project ION