Launch of the first 1st INCB Expert Group Meeting on the Trafficking of Dangerous Substances through Freight Forwarding Services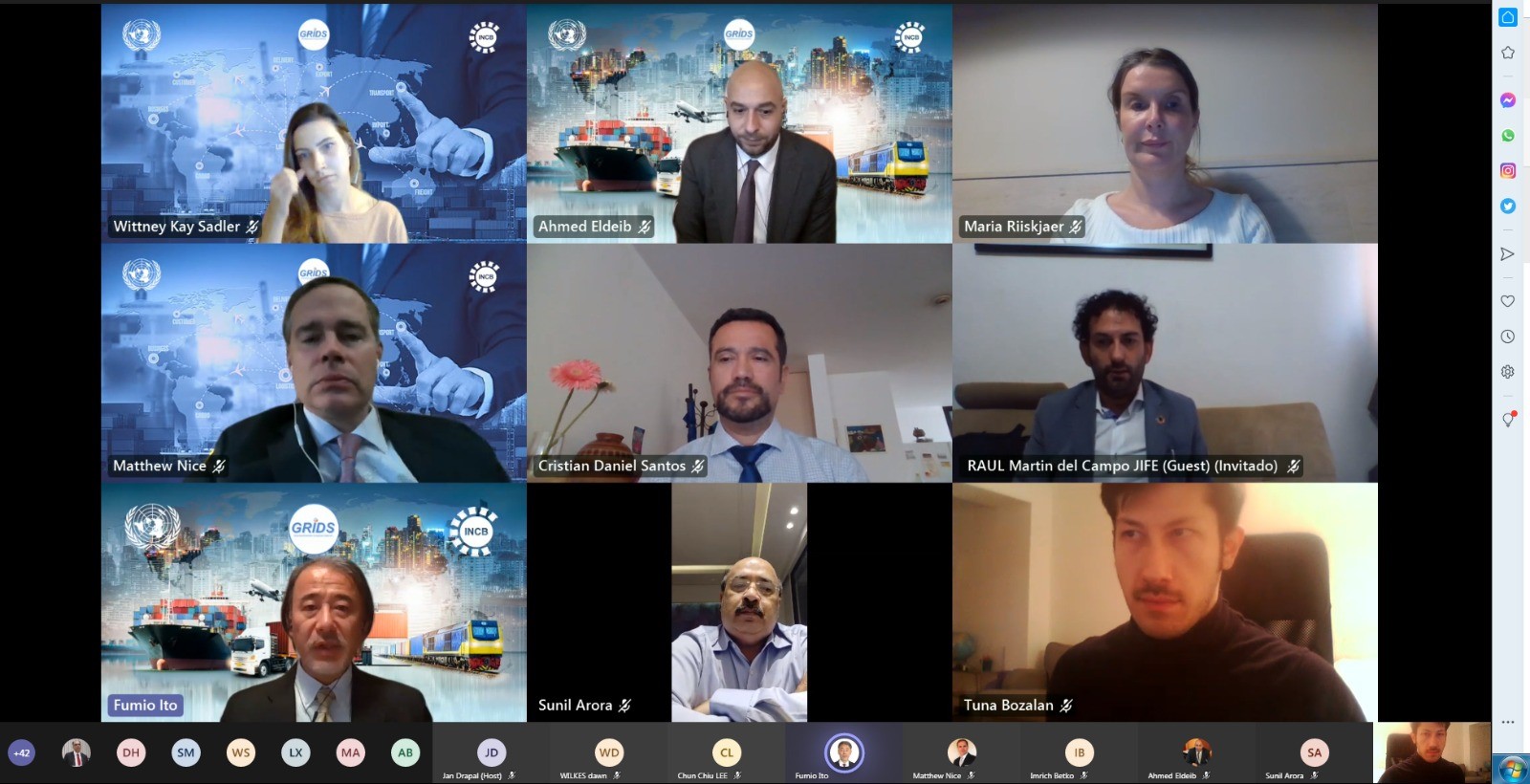 Photo: Over 70 participants attended including Raul Martin del Campo, Board Member, INCB (middle right); and Mr. Sunil Arora, President, Air Cargo Agents Association of India (ACAAI) (bottom centre)
Vienna 9 December 2020 - The Global Rapid Interdiction of Dangerous Substances (GRIDS) Programme of the International Narcotics Control Board (INCB) is holding a five-day online expert group meeting on trafficking in dangerous substances through freight forwarding services. Attended by over 70 participants per session, the initiative brought together experts from national institutions and the private sector who shared experiences and information with the aim of strengthening practitioners' networks and preventing trafficking in dangerous substances.
In his opening statement, INCB President Cornelis de Joncheere noted that many legitimate businesses are exploited by traffickers and that the ever-growing internet sphere allows drug traffickers to easily market their products to a global audience. INCB, therefore, supports broad cooperation between governments and relevant industry counterparts, including freight forwarding services.
Mr. Masanobu Yamate, First Secretary of the Permanent Mission of Japan to the United Nations in Vienna, acknowledged INCB's achievements in promoting public-private partnerships to address trafficking in dangerous substances and reiterated the support of the Government of Japan to INCB activities through Project ION under the GRIDS Programme.
Held from 30 November to 11 December, the meeting offered an opportunity to review progress and results of ongoing operational initiatives. Presentations were made by Mr. Fumio Ito and Mr. Imrich Betko from the Precursors Control Section of the INCB secretariat, Mr. Angus Lee from the World Customs Organization (WCO), Mr. Bob Van Den Berghe from the Container Control Programme (CCP) of UNODC, Mr. Jan Drapal and Ms. Sandra Nuruzzaman from the International Criminal Police Organization (Interpol), Ms. Dawn Wilkes from the Universal Postal Union (UPU), as well as Ms. Celine Hourcade from the International Air Cargo Association (TIACA). These presentations provided a unique insight into practical approaches to tackle trafficking of dangerous substances through freight forwarding services and clearly demonstrated the value of international and public private cooperation in preventing trafficking and protecting business for both governments and the private sector.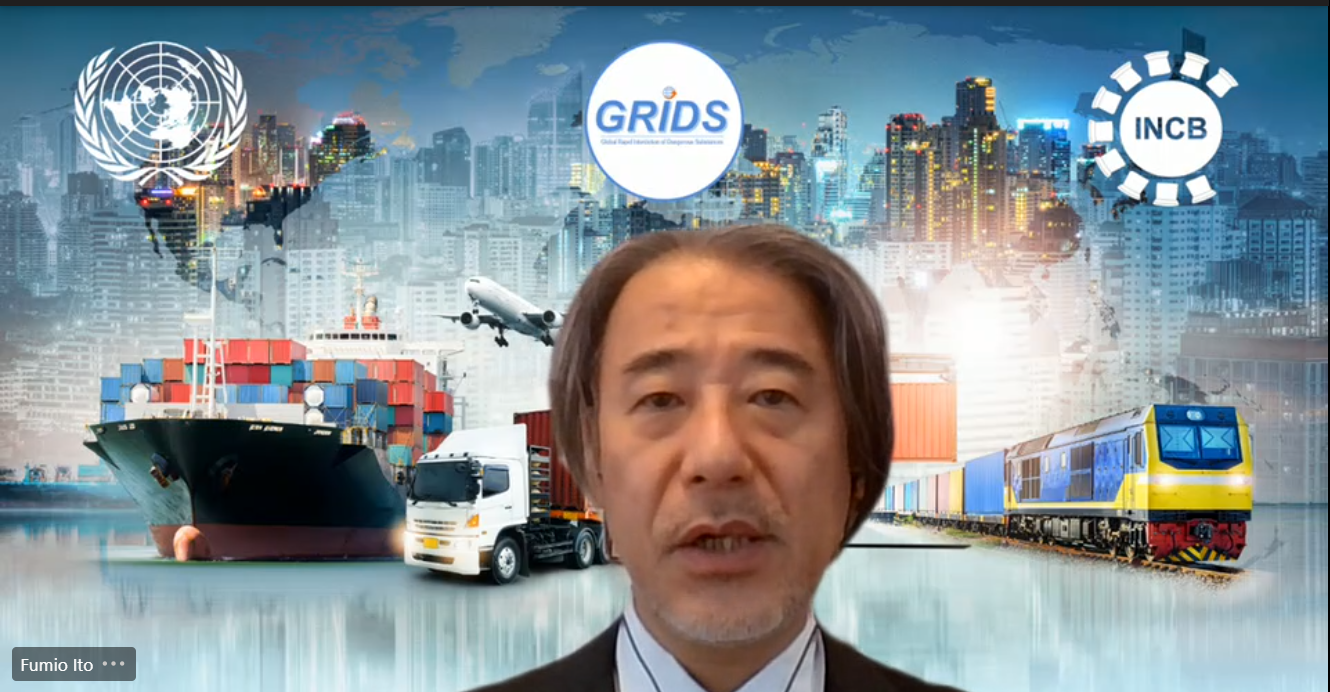 Photo: Fumio Ito from the INCB secretariat talking about INCB's displaying results of ongoing operational initiatives
Operationally launched in February 2020, the INCB Global Rapid Interdiction of Dangerous Substances (GRIDS) Programme contributes to implementation of United Nations General Assembly Resolution 73/192 and CND Resolution 62/8, which calls for international cooperation to address and counter the world drug problem, by responding to requests by Member States to enhance their law enforcement capacity to detect and identify new psychoactive substances and promote intelligence-sharing and cross-border cooperation. Offered under the GRIDS Programme, Project Ion, the OPIOIDS Project, and the IONICS platform are practical tools to help Member States prevent and address illicit manufacture, marketing, movement, and monetization of dangerous new psychoactive substances (NPS), fentanyl-related substances, and their precursors, through the exchange of information and intelligence, operational cooperation as well as public-private partnerships.
The GRIDS Programme receives generous support from the Governments of Australia, Canada, Japan, and the United States. In particular, the present event was made possible through the support of the Government of Japan.
Click here to learn more about the GRIDS Programme
Click here to learn more about the OPIOIDS Project
Click here to learn more about the Project ION