Building Customs Capacity in Viet Nam to Strengthen Information Exchange and Prevent Trafficking in Dangerous Substances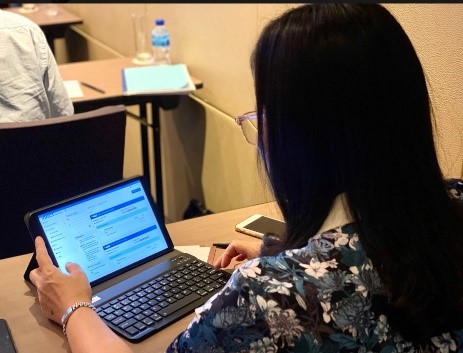 26 March 2021, Ho Chi Minh City, Viet Nam - INCB delivered comprehensive awareness raising and safe interdiction training on new psychoactive substances, synthetic opioids and other dangerous substances to Vietnamese Customs officers from across the country to strengthen practical information exchange of traffickers through the IONICS communication platforms.
The 3-day training event assembled 25 Customs officers from four Customs Departments in Ho Chi Minh, Da Nang, Hanoi, and Khanh Hoa. This included the Anti-Smuggling and Investigation Department as well as the International Cooperation Department. It also included an on-site visit to the Ho Chi Minh Customs Department's Express Customs Unit to observe practical selection and examination processes for suspicious express mail, courier packages and air passenger baggage.
Photo: Officers visit the Express Customs Unit in Ho Chi Minh Customs Department to learn about examination processes
INCB provided additional region-specific intelligence on the trafficking of dangerous substances such as, fentanyl-related substances, followed by interactive trainings on safe-handling and interdiction of these substances. INCB experts located in Vienna and in Viet Nam trained officers on the effective use of the Project ION Incident Communication System (IONICS) and the GRIDS Intelligence tool to support domestic and international trafficking investigations. Using INCB's rapid training tablets, officers had access to GRIDS Intelligence, a state-of-the-art targeting tool that transforms IONICS information into actionable intelligence for use in daily operations and risk profiling.
Photo: Mr. Fumio Ito, INCB manager for Project ION (left) and Mr. Long Nguyen, GRIDS Regional Technical Advisor (right) discuss advantages of the IONICS platform and GRIDS Intelligence tools to Customs officers
Mr. Long Nguyen, GRIDS Regional Technical Advisor, emphasizing the importance of interagency cooperation and information exchange stated, "this training course is just the beginning, as INCB continues to reach out to more and more officers in the region to equip them with tools to combat the trafficking of non-scheduled dangerous substances."
The Board's Global Rapid Interdiction of Dangerous Substances (GRIDS) Programme and Project ION and OPIOIDS Project support Governments' capacity to respond to changing trafficking, illicit manufacture, marketing and sales of NPS, non-medical synthetic opioids and fentanyl-related substances by providing real-time communication, facilitating information exchange and intelligence development that interdict distribution of dangerous substances.
This event was made possible through generous support from the Government of the United States.