INCB convenes a global conference for operational officers on the interdiction of fentanyls, other synthetic opioids and related dangerous substances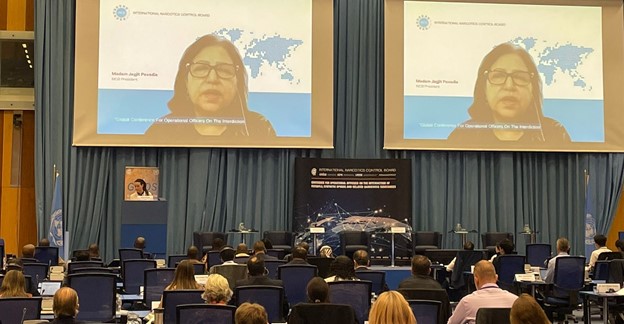 VIENNA 5 August 2022 - The International Narcotics Control Board (INCB) convened a global operational conference on opioids from 1-5 August 2022 in Vienna, Austria. The meeting brought together law enforcement officers and international and private sector partners to address the trafficking of fentanyls, other synthetic opioids and related dangerous substances. Over 140 participants from 83 governments, international organizations and private sector companies shared their experiences and perspectives on the challenges and threats related to the illicit manufacture and distribution of fentanyls, and exchanged practical voluntary cooperation approaches to address the growing threat of non-scheduled dangerous substances.
INCB President Jagjit Pavadia opened the five-day event stating "Now, more than ever, international cooperation with governments and, through them, industry leaders, is critical to responding to trafficking and overdoses from fentanyls and other dangerous synthetic opioids." Experts from the public and private sectors from around the world also discussed recent efforts and outcomes in preventing the exploitation of legitimate services by traffickers and the value of promoting voluntary cooperation across borders.
The in-person event provided an opportunity to strengthen cooperation among countries, experts, and security representatives and exchange best practices. Other international bodies including the World Customs Organization, UNODC, the Universal Postal Union, and the Oceania Customs Organization also joined the event. The ongoing practical networking of officers across countries and regions is facilitated through the INCB GRIDS Programme Regional Technical Officers posted at five locations around the world.
The Board's Global Rapid Interdiction of Dangerous Substances (GRIDS) Programme and its Project ION and global OPIOIDS Project and its Public-Private Partnerships initiatives support Governments' capacity to respond to changing trafficking, illicit manufacture, marketing and sales of NPS, synthetic opioids and fentanyl-related substances by facilitating real-time information exchange, intelligence development and actions that interdict distribution of dangerous substances.
The GRIDS Programme is supported by the Governments of Canada, Japan and the United States. This event was made possible through generous support from the United States of America's Department of State Bureau of International Narcotics and Law Enforcement Affairs and the Government of Canada's Global Affairs Canada.
Click here to learn more about the GRIDS Programme
Click here to learn more about the OPIOIDS Project
Click here to learn more about the Project ION