INCB launches a new e-module on adequate availability of controlled substances

Vienna, 1 September 2022 - The International Narcotics Control Board (INCB) is pleased to announce the launch of a fifth e-module dedicated to Ensuring the Adequate Availability of Controlled Substances for Medical and Scientific Purposes.
This interactive, self-paced, e-module was developed to continue supporting Member States with building their capacity on ensuring the adequate availability of controlled substances. Taking a comprehensive approach, the e-module addresses both the legal and practical perspectives related to availability and access. The new availability e-module will be made available in French, Russian, Spanish and Portuguese during the course of 2022 and 2023. Translation into other languages is dependent on the availability of extrabudgetary contributions.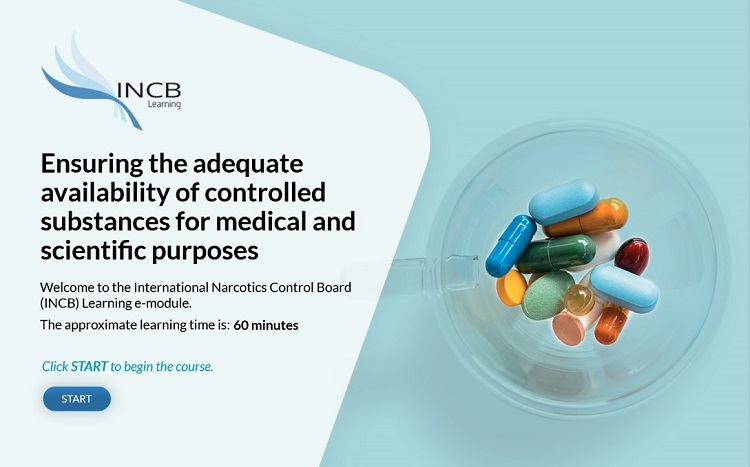 The new e-module joins the four existing INCB Learning e-modules on the Estimates System for Narcotic Drugs, Assessment System for Psychotropic Substances, and Estimates of annual legitimate requirements (ALRs) for Imports of Precursors of Amphetamine-Type Stimulants, and  International Drug Control Framework and the International Drug Control Board.
The e-modules offer self-paced training on estimating and assessing controlled substances and on the legal framework of drug control and the International Drug Control Board. They are free of charge and accessible to government officials of competent national authorities under the three international drug control conventions.
In the launch event, the President of the Board, Ms Jagjit Pavadia, appealed to Member States to ensure the transfer of knowledge and succession planning in this field. "Over the last six years the improvement in reporting performance of countries that have received INCB Learning training through either e-modules or training seminars attests to the relevance and importance of this global programme. These forms of training must be ongoing given that high staff turnover in offices of the Competent National Authorities often results in the loss of knowledge, skills, and expertise" she said.
To date, 1,269 officials from 147 countries and territories have enrolled in INCB Learning e-modules. E-modules complement in-person training seminars by providing on-demand training to competent national authorities under the three international drug control conventions allowing them to gain, refresh and/or retain vital knowledge and skills especially at times of high staff turn-over.
Successful completion of the e-modules is acknowledged with an online certificate. Requests for access can be sent to incb.learning@un.org.
INCB Learning activities are possible thanks to generous contributions made by the Governments of Australia, Belgium, France, Portugal, the Russian Federation, Thailand, and the United States of America.
Click here to learn more about INCB Learning.