INCB Learning holds regional webinars for national drug regulatory authorities in South East Asia and the Pacific

Vienna, 8 March - Today INCB Learning began its fourth virtual regional training for national drug regulatory authorities responsible for implementing the international drug control conventions. From 8 to 23 March 2021, Government officials of 11 countries of South East Asia and the Pacific will participate in ten sessions aimed at strengthening their compliance with the provisions of the three international drug control treaties. These virtual sessions are a follow-up activity of the INCB Learning regional training seminar held in 2016 in Bangkok, Thailand.
During the opening session, the Secretary of the International Narcotics Control Board (INCB) and Chief of the INCB secretariat, Mr. Mark Colhoun, welcomed government officials and emphasized the importance of strengthening capacity in the region to enhance the implementation of and adherence to the international drug control framework.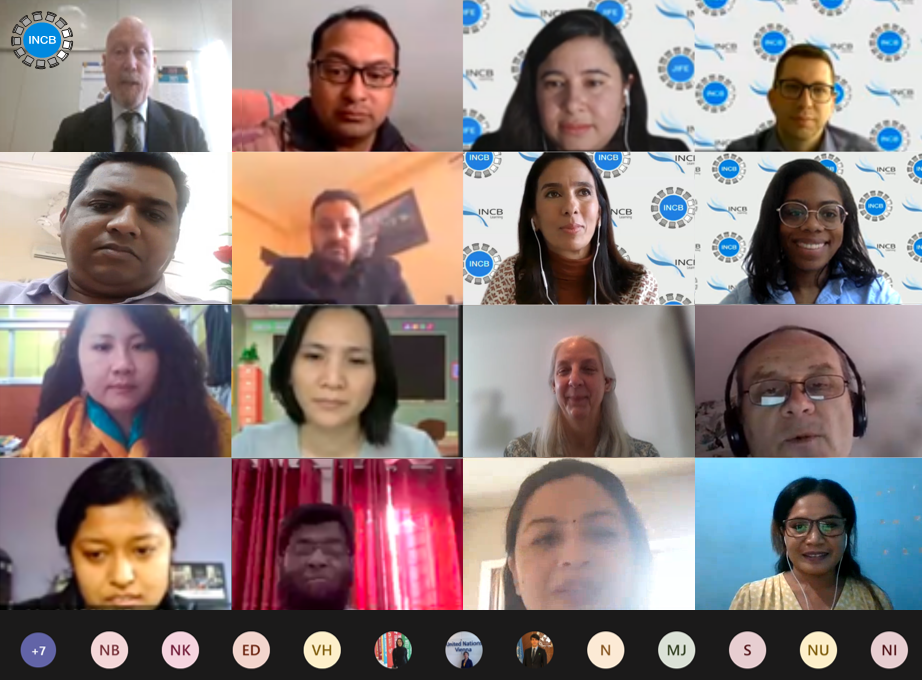 Representatives of the United Nations Office on Drugs and Crime (UNODC) and the World Health Organization (WHO) made presentations on availability of controlled substances for medical and scientific purposes. In their presentations, experts highlighted that, in order to achieve Sustainable Development Goal 3 on good health and well-being, it is essential to ensure the adequate availability of controlled substances while also ensuring their licit use and preventing diversion into illicit channels.
The sessions on narcotic drugs, psychotropic substances, precursors and the use of the International Import and Export Authorization System ( I2ES) expand and consolidate the knowledge acquired through the INCB Learning e-modules. Government officials of 111 countries and territories are enrolled in the e-modules that are available to competent national authorities free of charge in English and Spanish.
A new session on methodologies for collection of consumption data on psychotropic substances was introduced to this training activity as part of efforts to assist countries in their collection of consumption data and submission to the Board.
The activities of INCB Learning have been made possible through the contributions of the Governments of Australia, Belgium, France, the Russian Federation, Thailand and the United States.

* *** *
For further information, please contact:
INCB Secretariat
Tel.: (+43-1) 26060-4163
Email: incb.secretariat[at]un.org
www.incb.org