English / Français / Español / Русский


For more information on the webinars, click on the links below:
•  Central America and the Caribbean:  Virtual, 8-15 (ES) & 16-23 (EN) June 2020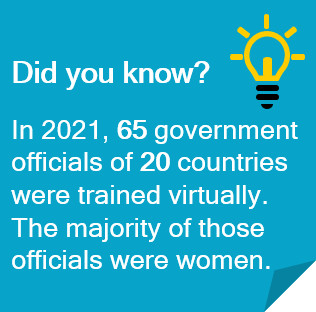 •  South America:  Virtual, 28 September - 1 October & 25-26 November 2020
•  Western African francophone countries:  Virtual, 7-14 December 2020
•  South and Southeast Asian countries:  Virtual, 8-23 March 2021
•  Latin America and the Caribbean countries:  Virtual, 6-10 December 2021
•   English-speaking African countries:  Virtual, 25-29 April 2022
INCB Learning virtual training seminars were offered for the first time in June 2020, aimed at continuing supporting governments through capacity-building activities while complying with measures designed to prevent the spread of COVID-19.
The webinars provide online training on the implementation of the international drug control conventions with a focus on treaty compliance and exchange of best practices among countries. Between 8 and 15 June 2020, 26 government officials from Costa Rica, the Dominican Republic, El Salvador, Guatemala, Honduras and Panama participated in nine online sessions focused on internationally controlled substances. Webinars for the competent national authorities of Belize and Guyana took place from 16 to 23 June 2020. The participation of Panama in the Spanish webinar and of Belize and Guyana in the English webinar marked an important milestone, as none of those three countries had received training under INCB Learning before.
A second series of webinars in Spanish took place in September 2020 for 43 officials of Colombia, Ecuador and Peru. Webinars are tailored to assist Governments in estimating and providing accurate data to ensure the availability of controlled substances while preventing diversion and abuse.
The third series of webinars in French took place in December 2020 for over 40 officials from Burkina Faso, Cameroon, Central African Republic, Democratic Republic of Congo, Gabon, Guinea, Morocco, Niger, Senegal and Togo. In nine sessions, government officials got an opportunity to further enhance their monitoring and reporting capacity in the field of narcotic drugs, psychotropic substances and precursor chemicals, as well as in the use of the Board's International Import and Export Authorization System (I2ES). The tailored sessions were a follow-up to the regional training seminar held in Dakar, Senegal in September 2018.
The fourth webinar series was held between from 8 to 23 March 2021. Government officials of 11 countries of South and Southeast Asia participated in this follow-up activity for the INCB Learning regional training seminar held in 2016 in Bangkok. Additionally, representatives of the United Nations Office on Drugs and Crime (UNODC) and the World Health Organization (WHO) made presentations on availability of controlled substances for medical and scientific purposes. A new session on methodologies for collection of consumption data on psychotropic substances was introduced to this training activity, as part of efforts to assist countries in their collection of consumption data and submission to the Board.