INCB Learning holds regional webinars for national drug regulatory authorities in English-speaking African countries

Under its capacity-building global programme, INCB Learning, the International Narcotics Control Board held a training seminar for 13 officials from the competent national authorities of Burundi, Eswatini, Ethiopia, Ghana, Malawi, and Zambia. The training, which took place from 25 to 29 April 2022, was held virtually and focused on supporting officials from national drug regulatory authorities in their implementation of the international drug control conventions while also raising awareness on the adequate availability of controlled substances on the continent. Four of the six countries that attended had not previously participated in INCB Learning seminars. Burundi and Ethiopia received training in 2016.
INCB Learning training activities build on the content of INCB Learning's e-modules on the international drug control framework and the control of narcotic drugs, psychotropic substances and precursor chemicals. Training participants had to complete all four INCB Learning e-modules as a prerequisite to attending the seminar. The e-modules are free of charge, interactive, self-paced, and available upon request to drug control officials from competent national authorities. They are currently available in English, French, Spanish and Portuguese and to date 1, 247 officials from 144 countries and territories have enrolled in these e-modules.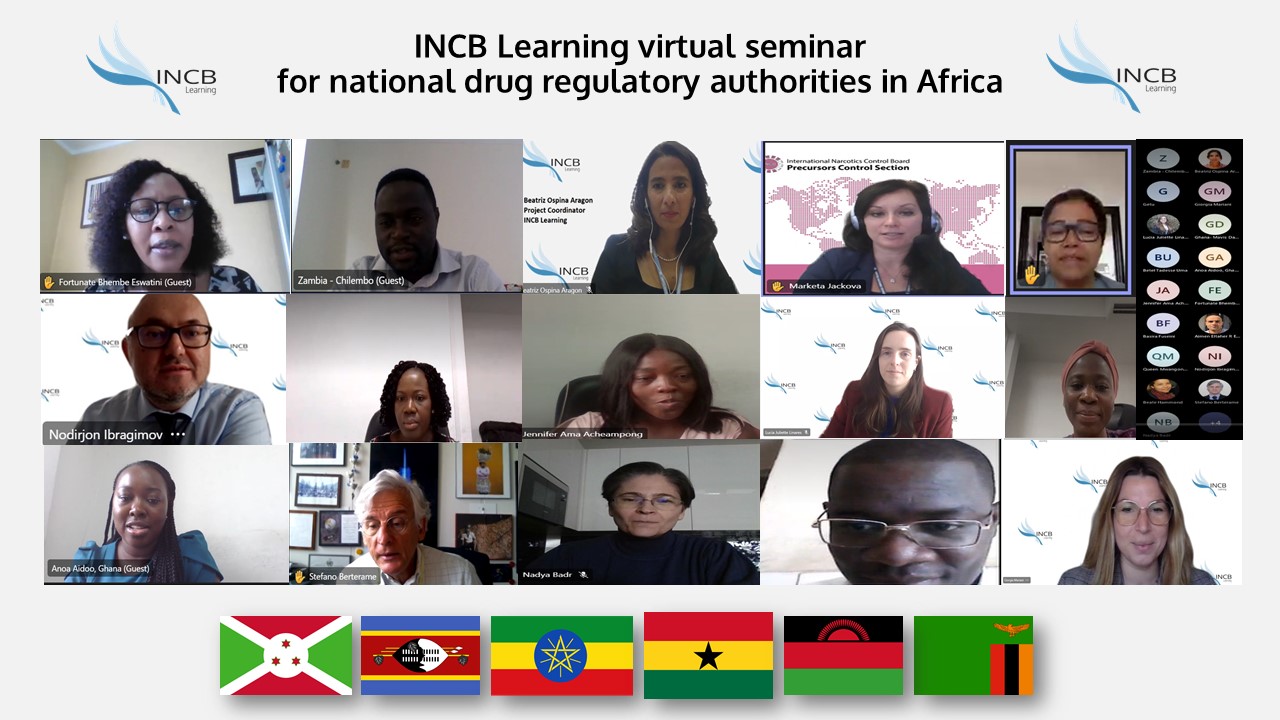 In addition to the e-modules, INCB Learning has developed a FAQs tool. This tool, available in English, French, Russian and Spanish, and as of March 2022, Arabic, provides guidance on the most pertinent issues relating to regulatory control and monitoring of the licit trade in narcotic drugs, psychotropic substances and precursor chemicals. The tool also contains a practical table with reporting deadlines, guidelines, and links to all INCB forms. Learning tools are available to competent national authorities free of charge on the INCB Learning web page. 
Accurate and timely reporting to the Board ensures the effectiveness of the international drug control system and contributes to improved availability of controlled substances for medical, scientific and industrial purposes.
Building drug control capacity to ensure the adequate availability of internationally controlled substances for medical and scientific purposes is at the core of the work of INCB Learning, and key to achieving SDG 3: Ensure healthy lives and promote well-being for all at all ages.
*****
For further information, please contact:
INCBLearning
Tel.: (+43-1) 26060 83131
Email: incb.secretariat[at]un.org
https://www.incb.org/incb/en/learning.html